Kids Ministry at North Hills Church
At North Hills Church our kids (infant through kindergarten) experience safe, age-appropriate environments where they learn about Jesus in a creative and relevant way. Our mission is to help kids know who God is and who we are in Him by showing them how to develop a lifelong love for Jesus. Each element of a Sunday morning service for children is fun and interactive in order to help children understand and develop their relationship with God.
We would love to see you and your family visit North Kids at 9am on Sundays.
*Note: all Wednesday night in-person programming has been suspended at this time.
Your first visit
Here's what to expect when visiting North Kids for the first time:
First, look for the Welcome Table located in the main lobby of the sanctuary. A volunteer leader will then escort you to either the Clubhouse or The Hub. The Clubhouse is for children from birth-kindergarten. The Hub is for children 1st grade-6th grade. Enter the lobby of the correct building and you will be greeted by a volunteer who will help you check in your children.
Once inside, we will help you through the registration process, give you a tour of the classrooms, tell you about what we believe, and give you a summary of what the day will look like for your child in their classroom. You will have the opportunity to meet your child's teacher and ask any questions you may have. If possible, please arrive 15-20 minutes prior to our 9am service to allow for plenty of time for registration and check in.
Upon checking in for the first time, we will ask for the following personal information (NOTE: We value your privacy and will not share this information with anyone):
Parent/guardian name(s)
Child's name
Child's birthdate
Home address
Phone number
Any special instructions (allergies, special needs) for your children
How check-in works
Before Service: You can check-in your child in the lobby of either The Clubhouse or The Hub. After finding your child's name in the database, you and your child will be given matching name tags that are exclusive to your family and your visit. Your child will need to wear the name tag portion while you hold on to the matching tag.
After Service: After the service is complete, you will return to your child's room and show your tag in order for your child to be released back to you.
During Service: In the event that we need to contact you during the service, we will contact you via the phone number that you provided during check in. We ask that you exit the auditorium immediately and look for a staff member or volunteer who will direct you to your child's room.
Wednesday Nights
*Please note all in-person Wednesday night programming has been suspended at this time.
Wednesday nights we hold Extreme Kids, a fun program where children will learn Bible stories, memorize Scripture, play games, do lesson-based crafts, and interact with God and their peers in a creative way.
Currently, children birth-preschool meet in The Clubhouse. Children kindergarten-5th grade meet in the main sanctuary. In The Clubhouse, you will check in your children up to 10 minutes prior to the start of the evening on the computer in the lobby of The Clubhouse. In the main sanctuary, you will check in your children with their group leader 10 minutes prior to the start of the evening.
Safety
The safety of every child is our top priority, which is why we have specific check in areas for kids and families. The check-in system is designed to print specific labels for your child and matching pick-up receipts for families. Our volunteers are highly trained and background checked before they work with children, and are screened annually. To enhance security measures, all children's classrooms are monitored by our volunteer campus security team while children are present.
Meet our Pastor and Director of Family Ministries
Amanda Hogencamp has been on staff at North Hills for 7 years, and took on her current role in 2017. Amanda and her husband, Danny, have been married for 8 years and have 5 children. She loves to teach kids about God and how to apply His Word to their lives. You can almost always find her doing a craft and drinking tea.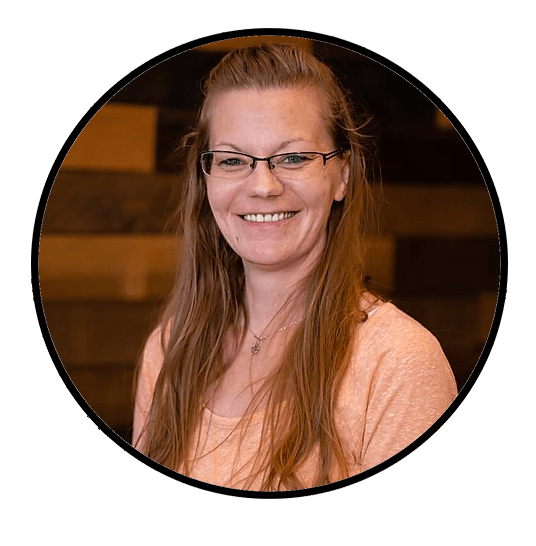 Got questions?
If you have further questions concerning our North Kids experience or visiting North Hills Church with children, simply click the button below and get in touch with us!